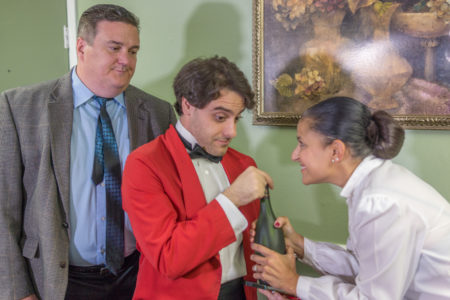 Plaza Suite by Neil Simon kicks off Studio Players' fall season. The show is a Neil Simon classic, filled with laughter and nostalgia of life in the Plaza Hotel in the late 1960's. Looking for a perfect date night item in Montclair? Plaza Suite fits the bill.
The show is directed by Paul Bettys, and stars Debbie Buchsbaum, Debra Carozza, Brittany Chiacchiaro , Scott Guzzo, Tim Murphy, Kevin Vislocky, Geoffrey Waumans, Judy Wilson, Vicky Wolak
Oh if the walls inside any hotel room could talk, what stories they could tell! This comedy, by Tony Award Winning playwright Neil Simon, includes glimpses at a marriage on the rocks, a possible rekindled romance, and a couple dealing with their reluctant daughter on her wedding day. All of these stories take place at different times in room 719 of the famous New York City icon, the Plaza Hotel.
November 3*, 4, 5, 9, 10, 11, 12, 16, 17, 18
Thursdays, Fridays, and Saturdays at 8:00pm
Sundays at 3:00pm
*Opening Night, Buy 1, get 1 Free
Tickets are $20 for adults and $17 for students/seniors, and can be ordered at Brown Paper Tickets http://www.brownpapertickets.com/producer/132855 or by calling our box office at 973-744-9752.