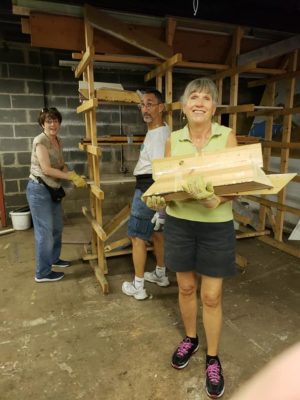 Schedule the week of August 19 and onwards:
Monday, Aug 20:
1–Earlier in the day Monday, continued drying out and remaining demolition of water logged drywall, wood racks, etc.
2–4:00 All hands on deck to load dumpster number 3!
3–Monday later afternoon work by Dry Ease (professional water remediation company) – this process will take about a week we believe.
Much of the donation money is going towards this remediation. We could still use a helping hand. Your donations are tax deductible. Donate online at our website via PayPal https://studioplayhouse.org/ or mail a check to Studio Players 14 Alvin Place Upper Montclair, NJ 07043
We will then get the boiler and electrics work estimated and going – we will have to turn off the power during the electric work.
We will move forward from there rebuilding the scene shop and dressing rooms:
We have received generous offers of some building material when it is safe to rebuild the downstairs dressing rooms and shop.
We are so grateful for the three dumpsters that have been provided to us by Champion Waste Removal (owners Louis and Michell Mauriello) at very little cost to us. We are guess that over 50,000 lbs of debris will have been removed…in other words, roughly 90% of our prop, furniture, door, window, and molding stock.
Items that we have salvaged are in storage pod donated by Mr. Silver.
We are also eternally grateful for a sizeable donation from generous supporter of the arts and the local community who wishes to remain anonymous.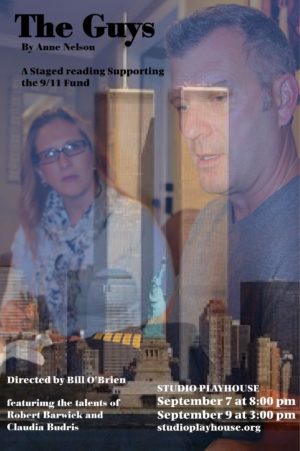 We estimate that the remediation, repair/replace of the furnace, hot water heater, sinks, bathroom and rebuild the shop and dressing rooms will be close to $40,000 in the end. And that's before we get to replacing our stock of furniture and building supplies and paint.
Fortunately we have had several offers of furniture,and folks are holding on to items for us because we quite literally have no place to put any donations until the work on the downstairs is completed.
Our first four shows, had their sets either stored in other locations and/or we've found some creative solutions. So…OUR SEASON IS A GO!!!!!! BUY YOUR TICKETS NOW TO:
The Guys (staged reading)
Charlie and the Great Glass Elevator
Into the Woods
A Charlie Brown Christmas