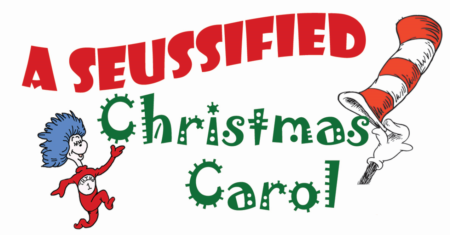 A Seussified Christmas Carol
By Peter Bloedel
Directed by Beatriz Esteban-Messina
What happens when you mix Charles Dickens' beloved Christmas tale with a collection of your favorite Dr. Seuss characters like Thing 1, Thing 2, Bed-Headed Fred,Timmy Loo Hoo and many more? Why you get an action packed, comedic tale filled with glorious holiday cheer that's a must see for all Seuss and Dickens fans.
AUDITION DATES: September 24 and 25 at 7:00pm
Performance Dates: December 9, 10, 16, 17
Casting 12-15 fun people to play 24-30 speaking and non-speaking roles.
Ages from 18-80.
The following characters do not double any other role:
Narrator #1 (male or female)
Narrator #2 (male or female)
The Scrooge (male)
Bob Cratchit (male)
The following characters are played by actors doubling and tripling roles:
Jake Marley (male)
Bed-headed Fred (male)
Solicitor #1 (male or female)
Solicitor #2 (male or female)
The Ghost of Christmas Past (male or female)
Young Scrooge (male)
Belle (female)
Belle's husband (male)
The Ghost of Christmas Present (male or female)
Mrs. Cratchit (female)
Timmy Loo Hoo (male)
Bed-Headed Fred's wife (female)
Voices at party # 1,2,3,4 (male or female)
Sven (Ghost of Christmas Future (non-speaking; male or female)
A boy (male)
A maid (female)
Old Fezziwig (non-speaking) (male)
This is the story by Charles Dickens with dialogue in Seussical rhyming. Auditions will consist of cold readings from the script. Please dress comfortably, and bring your sense of silly. Don't forget your resume and please bring a photo headshot that captures your inner child. Its called a play…so let's play!