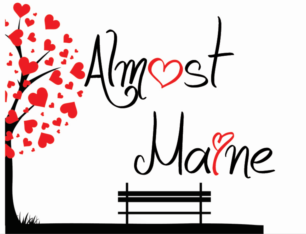 Almost Maine
By John Cariani
Directed by Amy Fox
Come enjoy what The New York Times called "A comedy comprising almost a dozen two-character vignettes exploring the sudden thunderclap of love and the scorched earth that sometimes follows". Using a series of eleven short scenes following nine different stories, this charming, delightful, and funny play explores love and loss with a touch of realism in a remote, mythical almost-town called Almost, Maine.
AUDITION DATES: DECEMBER 17 at 7:00 and DECEMBER 19 at 7:30pm
Performance Dates: March 9*, 10, 11, 15, 16, 17, 18, 22, 23, 24
Character Breakdown and Audition Sides will be available closer to the auditions dates, please check back.