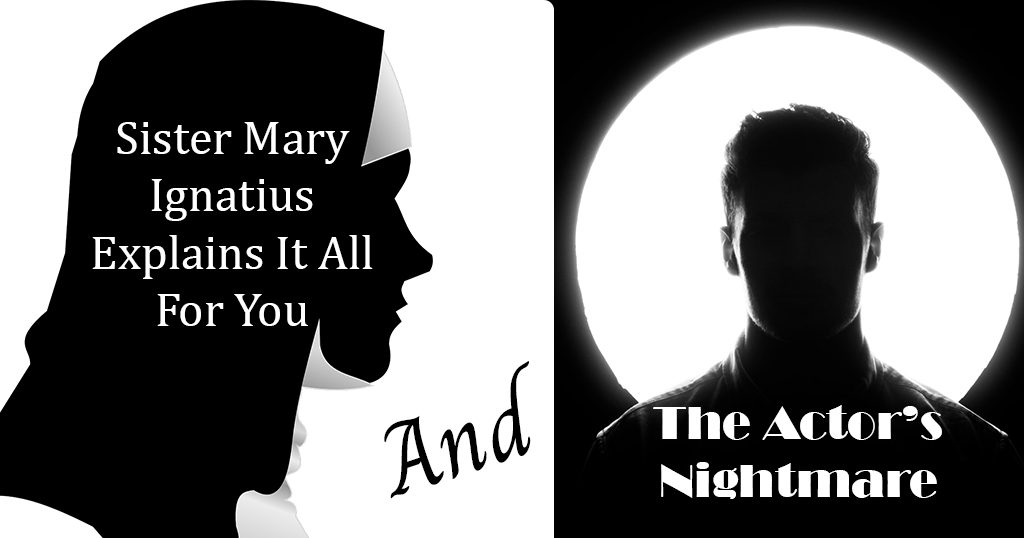 Sr. Mary Ignatius Explains It All for You, and The Actor's Nightmare
By Christopher Durang
Most actors will appear in both shows which are one-act plays.
PLEASE NOTE:
Performers must be vaccinated to participate in our shows. The director and creative team are vaccinated against COVID-19.Proof of Vaccination will be asked for at the in person auditions by the Audition Proctor. Masks are to be worn in the lobby of the theater, but may be removed during the audition
Audition Dates
November 15 and 17 at 7:00 pm
Please sign up for an audition slot at Sign-Up Genius, and be familiar with the sides for the role(s) you are interested in
Please submit your photo, experience, and conflicts online before the audition date
Performance Dates:
January 28, 29, Feb 4, 5, 11, 12 at 8:00pm
January 30, February 6 at 3:00pm
Sister Mary Ignatius Explains It All For You Synopsis
Sister Mary Ignatius, a teaching nun who is much concerned with sin in all of its various forms, delivers a cautionary lecture to her charges. One of them, a precocious little boy named Thomas, can quote the Ten Commandments on cue. But when several of her former students turn up the picture darkens, along with Sister Mary's indignation. Their stories are disturbing—but also very funny—and it is quickly apparent that one thing they all have in common is their loathing for Sister Mary and the unyielding dogma she forced on them in their formative years. In the end there is mayhem but, with this, the unsettling feeling that, amid the laughter, some devastating truths have been told.
Sister Mary Ignatius: Female, 45-70
a very devout and stern nun who cares very deeply for her students – in her own special way. She knows the way things are and will not accept any deviations from what the Bible says. Requires good energy, pacing, and the ability to memorize long monologues and keep them interesting.
Thomas: Male, 7-11
Sister Mary Ignatius' favorite student. NOTE: "He is 7 years old but, he witnesses extreme adult content throughout this script therefore may be cast with an older actor. The dialogue contains one character speaking of being raped, another speaks of abortions, and Sister Mary shoots a character in this show."
Gary Sullivan: Male, 25-35
fashionable, well behaved former student of Mary's. He's a gay man recently come to terms with himself and carries that confidence and happiness with him
Diane Symonds: Female, 25-35
a troubled former student of Mary's. She's gathered the gang together to present a pageant at Mary's lecture. She has a lot of baggage and is a very angry girl – she has plenty of reason to feel this way. She blames Mary for most of the problems in her life.
Philomena Rostovich: Female, 25-35
some would say she is a sweet former student of Mary's – Mary would say a stupid former student of hers. Philomena has one daughter and no husbands and has low self-esteem thanks to her former teacher.
Aloysius Benheim: Male, 25-35
a bullied former student of Mary's. He has a wife, children, and a severe bladder problem brought about by never being allowed to go to the bathroom by his former teacher. He plays the Camel's rump in the pageant.
The Actors Nightmare- Synopsis
Having casually wandered onstage, George is informed that one of the actors, Eddie, has been in an auto accident and he must replace him immediately. Apparently no one is sure of what play is being performed but George seems to find himself in the middle of a scene from Private Lives, surrounded by such luminaries as Sarah Siddons, Dame Ellen Terry and Henry Irving. As he fumbles through one missed cue after another the other actors shift to Hamlet, then a play by Samuel Beckett, and then a climactic scene from what might well be A Man for All Seasons—by which time the disconcerted George has lost all sense of contact with his fellow performers as well as what is make-believe and what is reality.
George Spelvin: Male, 25-35
a man who finds himself backstage under mysterious circumstances. He appears to be an accountant and seems to be the understudy of a man named Edwin, although he can't actually remember attending any rehearsals or being a part of the production. In Private Lives he plays Elyot. In Hamlet he plays Prince Hamlet. In Checkmate he plays Willie. In A Man for All Seasons he plays Sir Thomas Moore.
Meg: Female, 20-30
the stage manager. A capable worker. When it becomes apparent that George does not know many of his lines, she pretends to be a maid in the production and whispers some to him. In the scene from A Man for all Seasons, she plays the part of Sir Thomas Moore's daughter.
Sarah Siddons: Female, 25-40
a grand actress. In Private Lives, she plays Amanda. In Hamlet, she plays Queen Gertrude. In A Man for all Seasons, she plays Sir Thomas Moore's wife.
Ellen Terrey: Female, 20-35
another actress, but not as grand as Sarah. For some reason, she calls George "Stanley" before the production. In Private Lives she plays Sybil. In Checkmate, her character is unnamed. She remains in this character throughout the A Man for all Seasons scene.
Henry Irving: Male 25-35
a grand actor. In Hamlet, he plays the part of Horatio.