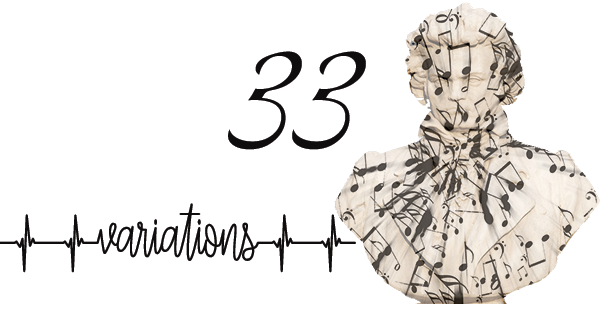 33 Variations
By Moises Kaufman
Directed by Claire Bochenek
A mother coming to terms with her daughter. A composer coming to terms with his genius. And, even though they're separated by 200 years, these two people share an obsession that might, even just for a moment, make time stand still. Drama, memory and music combine to transport you from present-day New York to nineteenth-century Austria.
Audition Dates: April 13 and 14 at 7:30 pm 
Show Performances: June 12, 13, 14, 18, 19, 20. 21.25. 26. 27
Character Breakdown
KATHERINE – Late 40s – 50s
Analytical and intellectual. Struggling to connect with her daughter. Experiencing tremendous difficulty coming to grips with her future as a patient with ALS. Instead of focusing on her own future, she looks to the past for answers to questions about her greatest passion, music.
CLARA – Mid to late 20s
Katherine's daughter. Still exploring what she wants to do with her life, both in terms of relationships and employment. Desperately trying to develop some kind of working relationship with her mother.
MIKE – Mid to late 20s
Katherine's nurse, he bears witness to Katherine and Clara's struggles. He is often a voice of reason. Through his romantic relationship with Clara, Mike attempts to balance being supportive and being the messenger of Katherine's medical reality.
GERTIE – 30s to 50s
A musicologist in Bonn, she exhibits the kind of "tough love" necessary to work with Katherine. She is a professional, and extremely knowledgeable in the works of Beethoven. While she does often come across as businesslike, she grows to care for Katherine and her family.
BEETHOVEN – Late 40s to 50s
Icon. Fully aware he is a legendary composer. Tyrannical to those not familiar with him. Incredibly passionate, he is concerned with legacy and the music he leaves behind. He is fully aware that he has a remarkable catalogue of music to his name. Nevertheless, he's struggling financially and (most importantly) physically. His hearing has been waning for some time.
SCHINDLER – 25+
Beethoven's devoted Secretary. He admires Beethoven's genius and attempts to do whatever is possible to preserve Beethoven's music and health. He is Beethoven's only friend, and very aware of it. Despite his kindness in working with Beethoven, he still faces moments of frustration and anger.
DIABELLI – 30s to 50s
Mediocre composer attempting to leave any mark in the music world. Arrogant & wealthy. He believes in his original composition and wishes for Beethoven to leave a favorable mark upon it.
Auditions sides