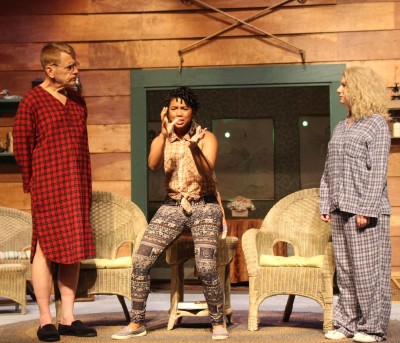 Vanya and Sonia and Masha and Spike
By Christopher Durang
Directed by Amy Fox
Stage Managers: Sam Silver and Judi Liebert
Master of comedy, Christopher Durang, takes characters and themes from Chekhov (though you don't have to be a Chekov scholar to understand the humor) and tosses them into a blender filled with sibling rivalry and affection. The utterly hilarious and occasionally touching result is his latest play set in present day Bucks County, Pennsylvania.
Christopher Gibbs as Vanya
Victoria Steele as Sonia
Claudia Budris as Masha
Michael Reddin as Spike
Elizabeth S. Quiñones as Cassandra
Megan Hatem as Nina
Performance Dates: June 3*, 4, 5, 9, 10, 11, 12, 16, 17, 18
Thursdays, Fridays, and Saturdays at 8:00pm
Sundays at 3:00pm
*Opening Night, Buy 1, get 1 Free
Tickets are $20 for adults and $17 for students/seniors, and can be ordered at Brown Paper Tickets http://www.brownpapertickets.com/producer/132855 or by calling our box office at 973-744-9752.