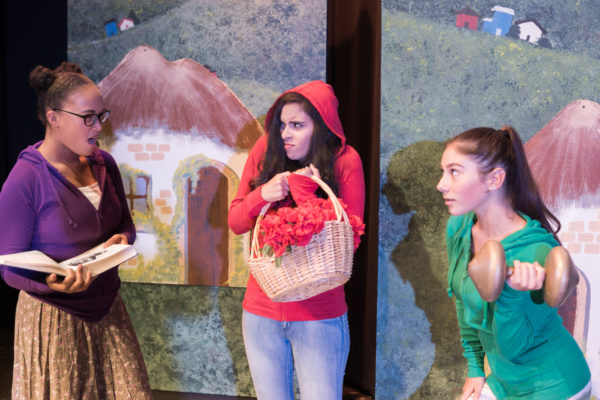 Looking for something to do for the whole family in the Montclair, New Jersey area? We provide one of the best options for things to do with kids in New Jersey. Check out the first show in the 2017-2018 children's theatre series at Studio Playhouse. At only $8.00 a ticket we provide affordable live entertainment for the whole family that's guaranteed not to break the bank.
Wooing Wed Widing Hood
By Charlie Lovett
Directed by Tommy Ehrenberg and Sue Mandzik-Davis
With more twists than a roller coaster, this fractured fairy tale adventure tells the story of Little Red Riding Hood and her two sisters: Big Green Riding Hood and Medium Purple Riding Hood. Back in the kingdom of Wychwood-under-Ooze, Wise Prince Jason, Strong Prince Justin, and Ordinary Loud Prince Frank all want to woo Little Red Riding Hood, much to her couch-potato parents' dismay. See how the Princes overcome the tasks ahead, and who will Woo Wed Widing Hood.
October 7, 8, 14, 15
Saturdays and Sundays at 1:30 and 3:30
Tickets are $8 and can be ordered at Brown Paper Tickets or by calling our box office at 973-744-9752.
CAST
Lisa Annitti ~ Angela Apolito ~ Ali Archetti ~ Olivia Collazo Patrick Craig ~ Jason Davis ~ Donna Fraissinet Nikye Jennings-Jackson ~ Brianna Johnson ~ Rob Kovacs Theresa Lyons ~ Lara Mazza-Hilway ~ Jose Ordonez Emilee Rodriguez ~ Franki Salluce ~ Stefanie Sears Brissae Valdes ~ Raushanah Williams