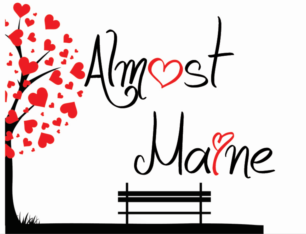 Almost Maine
By John Cariani
Directed by Amy Fox
Come enjoy what The New York Times called "A comedy comprising almost a dozen two-character vignettes exploring the sudden thunderclap of love and the scorched earth that sometimes follows". Using a series of eleven short scenes following nine different stories, this charming, delightful, and funny play explores love and loss with a touch of realism in a remote, mythical almost-town called Almost, Maine.
March 9*, 10, 11, 15, 16, 17, 18, 22, 23, 24
Thursdays, Fridays, and Saturdays at 8:00pm
Sundays at 3:00pm
*Opening Night, Buy 1, get 1 Free
Tickets are $20 for adults and $17 for students/seniors, and can be ordered at Brown Paper Tickets http://www.brownpapertickets.com/producer/132855 or by calling our box office at 973-744-9752.