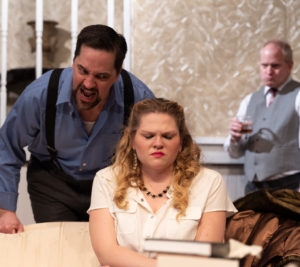 Born Yesterday
By Garson Kanin
Directed by Alex Oleksij
Millionaire businessman Harry Brock comes to Washington determined to become a power behind the scenes. Feeling that his ex-chorus girl girlfriend, Billie Dawn, isn't sophisticated enough for the Washington DC crowd, he arranges for her "education". Billie's educational enlightenment proves to be more than Harry ever bargained for! Garson Kanin's classic. award-winning comedy, a political take on Pygmalion, remains just as timely and insightful as ever.
March 29, 30, 31, April 4, 5, 6, 7, 11, 12, 13 / Tickets: $25*
Thursdays, Fridays, and Saturdays at 8:00pm
Sundays at 3:00pm
*Opening Night, Buy 1, get 1 Free
Tickets are $25 for adults and $20 for students/seniors, and can be ordered at Brown Paper Tickets http://www.brownpapertickets.com/producer/132855 or by calling our box office at 973-744-9752.
Cast
Harry Brock – Ken Budris
Billie Dawn – Julie Anne Nolan
Paul Verrall – Robert Barwick
Ed Devery – Rick Brown
Eddie Brock – Scott Guzzo
Senator Hedges – Dickson Lane
Mrs. Hedges – Jean M. Kuras
Assistant Manager – Nelson Valentin
Bellhop/Barber – Joshua T. Crockett
Maid/Manicurist – Sev