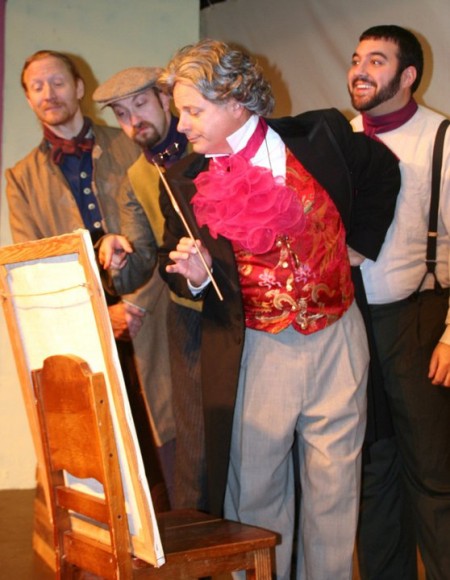 Few people are aware that Mark Twain ever wrote a play. But he did — a comedy titled "Is He Dead?"
Written in 1898, the play never made it to the stage, and subsequently gathered dust in a Mark Twain archive at the University of California until 2002, when it was uncovered by a Sanford University professor.
And now, Twain's satirical farce is coming to Montclair — thanks to the work of adapter David Ives, Montclair director Janet Sales, and the Studio Players' cast of zany characters — opening tomorrow evening for a three-weekend run at the Studio Playhouse on Alvin Place.
At the show's center is Jean-Francois Millet, a brilliant, but unrecognized painter. Since Jean-Francois can't sell a landscape to save his life, his inner circle of Bohemian friends — an ethnic stew made up of an American (Jim Coe), a German (Michael Daly of Montclair), and an Irishman (Christopher Mayer) — convince him that faking his death is the ticket to artistic success. So Jean-Francois disappears from life and re-emerges as his twin sister — a widow, both mad and madcap. And, of course, the expected mayhem begins.
The Studio Players offer of spectrum of characters to round out the cast. They include Bob Caruso as an elderly gentleman lecher; Becky Nitka and Laura Cole as the palpitating ingénues; Kathy Mierisch and Melissa Sandberg as the sweet, stylish, fluttering old maids; Mark Liebert as the sleek, melodramatic villain; and Jon Russo, who plays too many people to count.
The Studio Players production includes a postcard-pretty set designed by Mark Liebert and stunning costumes designed by Martha Bauver and Amy Fox, as well as a slew of reproductions of the real Jean-Francois Millet's paintings, by artist Anthony Rubolotta, on loan from the Barn Theatre in Montville.
Director Janet Sales heads a production team of theatrical veterans: Tommy Donaldson is stage manager, Laura Byrne-Cristiano is properties master, Russ Meyer is sound engineer and Bob Caruso is lighting designer.
"Is He Dead?" a comedy in three acts, was first published in print in 2003, after Mark Twain scholar Shelley Fisher Fishkin read the manuscript in the archives of the Mark Twain Papers at the University of California at Berkeley. The play was long known to scholars but never attracted much attention until Fishkin arranged to have it published in book form. She later played a primary role in getting the play produced on Broadway.
Adapted by David Ives, a former Guggenheim Foundation Fellow in playwriting, and directed by Michael Blakemore, "Is He Dead?" had its world premiere at the Lyceum Theatre in New York. The Broadway production was set to open Nov. 29, 2007, but due to the 2007 Broadway stagehands strike, it was postponed to Dec. 9, 2007. During its run, it received favorable reviews in The New York Times and Variety, but closed on March 9, 2008, after 105 performances.
Combining elements of burlesque, farce, and social satire, the comedy relies on such devices as cross-dressing, mistaken identities, and romantic deception to tell the story, which raises questions about fame, greed, and the value of art.