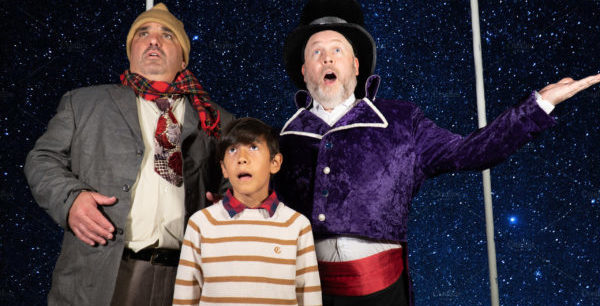 Don't miss the sequel to Willy Wonka and the Chocolate Factory as Studio Players in Montclair presents a great show that's fun for the whole family. We continue with our 82 season providing quality theatre at affordable prices right here in New Jersey.
Charlie and the Great Glass Elevator
Based on the book by Roald Dahl
Dramatized by Richard R. George
Directed by John Fraissinet
The adventure continues! In Roald Dahl's sequel to "Charlie and the Chocolate Factory", Willy Wonka and Charlie Bucket pick up the story right where it ended… in the sky in a Glass Elevator. Chaos ensues as astronauts, a pompous head-of-state, and even space aliens challenge the gang's return to the Chocolate Factory. 
There will be Wonka bars for sale each show. One will even have a Golden Ticket inside. Check out our first Golden ticket winner posing with the cast.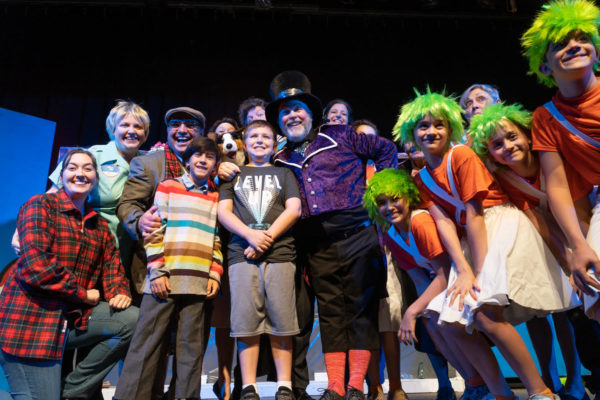 Sept 29, 30, Oct 6, 7
Saturdays and Sundays at 1:30 and 3:30/Tickets $10
Tickets are $10 and can be ordered at Brown Paper Tickets or by calling our box office at 973-744-9752.
CAST
Packy Anderson – Lincoln Boyes – Beatriz Esteban-Messina -Helen Exel Lisa Geerhart – Adam Gelles – Allyssa Hynes – Aaron Kellner – Russ Meyer – Denise Organisciak – Alexis Saarela – Victoria Scott – Claire Thornton Emma Thornton – Karen Thornton – Simon Thornton- Kieran Wells