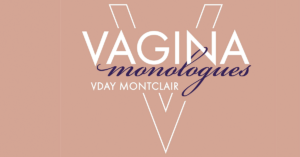 The Studio Players and VDay Montclair are pleased to announce a charity benefit production of The Vagina Monologues.  Auditions will take place on January 12th and 13th, from 7-9pm, with performances on February 28th and 29th at 8:00pm.
Tickets can be purchased via Brown Paper Tickets
You can contact V-Day Montclair at their website if you would like more information, would like to sponsor, or would like to donate.
WHAT IS VDAY?
In 1994, a play called The Vagina Monologues, written by playwright and activist Eve Ensler, broke ground, offering to the world a piece of art like nothing it had seen before. Based on dozens of interviews Ensler conducted with women, the play addressed women's sexuality and the social stigma surrounding rape and abuse, creating a new conversation about and with women. The Vagina Monologues ran Off-Broadway for five years in New York and then toured the United States.
On Valentines Day, 1998, Eve, with a group of women in New York City, established V-Day. Set up as a 501(c)(3) and originally staffed by volunteers, the organization's seed money came from a star-studded, sold out benefit performance at the Hammerstein Ballroom in New York, a show that raised $250,000 in a single evening.
V-Day's mission is simple. It demands that violence against women and girls must end. To do this, once a year, in February, Eve allows groups around the world to produce a performance of the play, as well as other works created by V-Day, and use the proceeds for local individual projects and programs that work to end violence against women and girls, often shelters and rape crisis centers.
VDAY MONTCLAIR 2020: S.O.F.I.A.
Proceeds from our 2020 Performance will be donated to Start Out Fresh Intervention Advocates (fondly referred to as S.O.F.I.A.). S.O.F.I.A. is a 501(c)(3) non-profit organization that provides advocacy, supportive services and referrals for temporary housing to "at risk" women and children of domestic violence. 
S.O.F.I.A.'s mission is to provide domestic violence victims and survivors with assistance and encourage them to be positive, self-sufficient and successful. Through the S.O.F.I.A. Success Center, we offer a variety of free workshops and programming to help the process of emotional healing and financial independence. To learn more about the many services and programs S.O.F.I.A offers to the community, please visit their website.