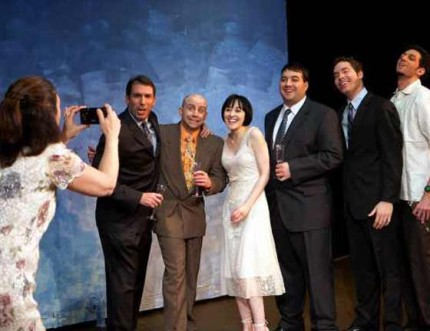 When the Studio Players' Planning Committee was looking for a romantic comedy to complement their 2010-2011 season, they asked Mark Liebert to read "Prelude to a Kiss" by Craig Lucas.  "I found it to be a warm, touching and very human story of love," Director Mark Liebert stated. "It's the story of Rita and Peter, who meet at a Manhattan party, quickly discover themselves to be soul mates, get married and eventually lose each other … or do they?" Liebert was smitten with the play, and signed on to direct the production, which opens tomorrow, Friday, March 11.
When Studio's Board of Management approved the selection last February, Liebert's journey as director began. He needed to put together a production team and his first order of business was to select a stage manager.
 "That was easy," he said. "My wife of 31 years — Judi Liebert — has been at my side for many of the shows I have directed at Studio over the past 17 years, including last season's musical, 'Batboy.' And she's generally considered the best there is."
Next, he needed to put together his design team. "I tabbed newly elected Production Manager Dickson Lane as lighting designer, a first-time collaborator with me," he pointed out. "Then I went back to engage longtime associates Russ Meyer as sound designer, Tommy Donaldson as properties master, and Martha Bayer as costume consultant. And, as usual, I would be by own set designer." The rest of the technical staff was also assembled, including sound operators, light board operators, spotlight operators and a stage crew. So before a single actor is engaged, a large team of support staff is assembled and begins to work.
Finally, auditions were held and in keeping with current Studio philosophy, they were wide open. "Unlike other community theaters, Studio Players is not a club that chooses its plays in order to give member actors a vehicle in which to perform," Liebert explained. "We recognize that we are competing for the Montclair area's entertainment dollars. This is a sophisticated area with many choices of theater, including Manhattan. We are committed to providing quality entertainment at affordable prices. And in order to keep 'raising the bar,' we constantly try to bring in new talent. Combine these factors with a large group of people who love the theater and you have the mix that makes the Studio Players so vibrant and special."
After two nights of successful auditions, a cast was assembled from a talent pool that came from all over northern New Jersey. Then came Liebert's favorite part of the process — working with actors to create these interesting, complex characters. And nurturing them as they discover the nuances of their personalities and how they interact with each other in the playwright's world of "Prelude to a Kiss."
"Fortunately, I struck gold with this cast," the director added. "They are committed, intelligent and hard-working actors who happen to be nice people. That combination has created a chemistry that will make it as special an experience for the audience as it has been for all of us who have been working on the project." Over a period of eight days, starting at 5 p.m. on Feb. 20, more than two dozen people contributed to transforming the Studio Playhouse stage from the wildly successful junior membership production of "Beauty and the Beast," to the setting of "Prelude to a Kiss." The cast and crew of "Prelude," along with other Studio volunteers armed with screw guns, paint brushes and lighting instruments teamed together to assemble the nuts and bolts that go into making the magic of the theater.
"I have never been happier nor prouder to be part of a production that has brought together this amazing team to tell this wonderful, touching story," Liebert concluded. "It's a show that can't be missed.