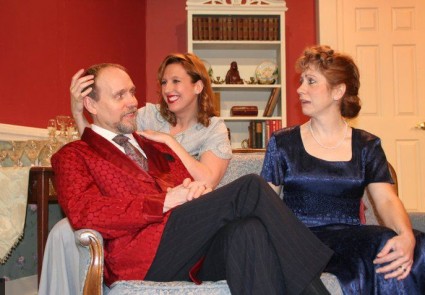 When Bob Caruso was asked to direct Noel Coward's "Blithe Spirit," for the Studio Players, as its final production of the season, he lost no time in accepting the assignment. One of the most famous British playwrights of the 20th century, Noel Coward was a man of many talents," Caruso stated.  "He was an actor, playwright, composer, novelist and a famous raconteur who traveled and performed all over the world. What more could I ask for?
"'Blithe Spirit' is one of his most durable comedies and just bristles with his witty and sophisticated dialogue," the director added. "So when we decided to do it at Studio, I jumped at the chance to explore Coward's 'outrageous and improbable farce.'"
Caruso also jumped at the chance to have Laura Byrne-Christiano co-direct the play with him. "Her time-tested sense of comedy brings a further dimension to this engaging and sophisticated play," he said.
In the play, Charles, a fussy, middle-aged writer, invites the eccentric medium, Madame Arcati, to hold a séance at his house, hoping to gather research for his next book. But the séance backfires when the medium conjures up the spirit of Charles' first wife, Elvira, who proceeds to wreak havoc on his marriage … and especially on his current wife, Ruth, who cannot see or hear her.
Bob Caruso and Laura Byrne-Cristiano have worked together on three Studio Players productions over the past few years. "We're now at the point where we tend to think alike much of the time, and complement each other the rest of the time," he pointed out. "So it was only logical that when I was asked to direct this show, I would insist on having Laura as my co-director."
Caruso noted that there was no specific "division of labor." "We just naturally work together and consult each other on all decisions," he said. "We work as a team.
"The pivotal character of Madame Arcati is one of those roles that just cries out for flexible casting," Caruso went on to explain. "By casting male actor Evan Blank, in the role, rather than a woman, we're honoring one of the hallowed traditions of British theater. And it also subtly implies that Madame Arcati is not quite of this world. As an actor, Evan was not asked to impersonate a woman, but to create a unique character instead."
"Blithe Spirit" has had a long and active theatrical history that has spanned over 70 years. The play was first seen in the West End in London in 1941, and set a new long-run record for non-musical British plays with 1,997 performances. It also did well on Broadway at the Morosco Theatre later that year, running for 657 performances.
Coward adapted the play for film in 1945, starring Rex Harrison, and directed a musical adaptation called "High Spirits," on Broadway in 1964. It was also adapted for radio and for television in the 1950s and 1960s. The play enjoyed several West End and Broadway revivals in the 1970s and 1980s, and was revived again in London in 2004. It returned to Broadway at the Shubert Theatre in February 2009.
Several notable actors have appeared onstage, in film, and on TV and radio in the roles. Mildred Natwick, Beatrice Lillie, Margaret Rutherford, Geraldine Page, Ruth Gordon, Lauren Bacall and Angela Lansbury have all portrayed Madame Arcati; Clifton Webb, Rex Harrison, Richard Chamberlain and Noel Coward have appeared as Charles; Peggy Wood, Claudette Colbert and Judith Ivey have been cast as Ruth; and Tammy Grimes, Rosemary Harris and Blythe Danner as Elvira.
"Noel Coward's world was that of sophisticated British society," Director Caruso pointed out, "and the Studio Players' production tries to reflect this.
"Coward wrote the play during a time when England was suffering severe casualties and facing German bombing attacks at home," the director said. "He felt that British audiences would want to view an escapist comedy such as 'Blithe Spirit' and he was right.
"'Blithe Spirit' is not meant to be social commentary, nor anything serious," he added. "It's meant to be fun and give the audience a good time," he added. "And it's in this spirit, no pun intended, that the Studio Players present it."