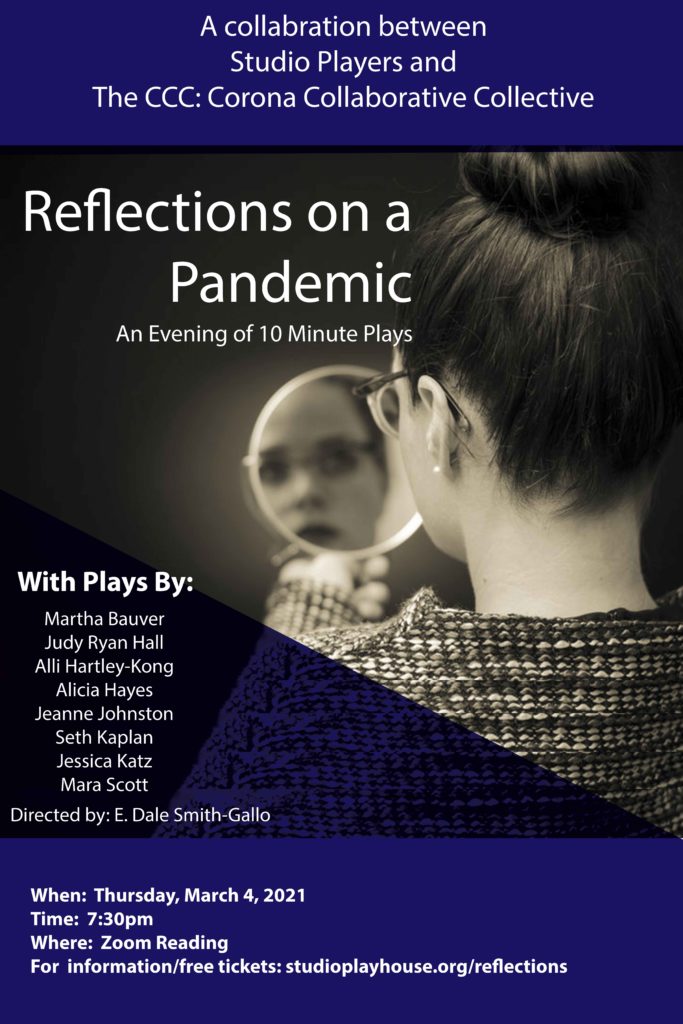 An Evening of Original 10-Minute Plays
When: Thursday, March 4, 2021
Time: 7:30pm
Where: Zoom Reading
With Plays By:
Martha Bauver,
Judy Ryan Hall
Alli Hartley-Kong
Alicia Hayes
Jeanne Johnston
Seth Kaplan
Jessica Katz
Mara Scott
Directed By: E. Dale Smith-Gallo
About Reflections on a Pandemic
Studio Playhouse and The CCC: Corona Collaborative Collective join forces to present an evening of 10-minute plays written by participants of Studio's "Playwriting with Panache" class. Natalie, a woman struggling with infertility, has built an online presence to connect with her fans, but can she find a connection with her husband as they sit stuck in an apartment together for months on end? Helen, a widow, has begun visiting her husband's grave significantly more often, but can her adult daughters figure out why? After running into an old friend at the grocery store, Karen invites him over to her brother's house to reconnect, but is there an ulterior motive behind her friendly gesture?
Join us for eight original plays written by members of the New Jersey Theatre Community and co-produced by Studio Playhouse and The CCC!
Writers and Casts
Egg Salad by Jeanne Johnston
Helen: Mimi Francis
Marie: Sarah Blannett Pharaon
Linda: Tess Ammerman
Thanksgiving 2020 by Jessica Katz
Carol: Jessi Baden Campbell
Bill: Kevin Vislocky
Date With Destiny by Mara Scott
Secretary: Mara Scott
Destiny: Elizabeth Quinones
Jack: Seth Kaplan
Limp Dick Streaming Service by Alli Hartley-Kong
Natalie: Alicia Whavers
Josh: Michael Smith-Gallo
Sweatpants by Alicia Hayes
Lena: Arianna Scarpetta
Mom: Laura Byrne
Two Sides by Seth Kaplan
Lance: Joe McCaig
Samantha: Jordana Nash
Chad: Randy Arbujo
Savannah by Judy Ryan Hall
Amber: Colleen Lis
Anna: Emily Miller
Last Chance by Martha Bauver
Phillip: Steven Martin
Karen: Deshja Driggs-Hall