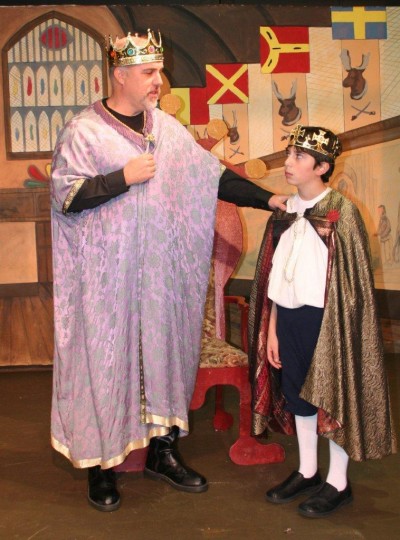 The Prince And The Pauper
An Original Musical by Mark Liebert and Ben Liebert
adapted from the original story by Mark Twain
Directed by Cindy Ross
When Prince Edward changes clothes with Tom Canty, the beggar boy, everybody is convinced that Tom is actually the heir to the throne. The true prince, now dressed in rags, is booted out of the palace. From here on out, the two lads lead an extraordinary existence as each tries to get along in a strange new world. This exciting new original musical of Mark Twain's beloved classic is sure to entertain audiences of all ages.
November 3, 4, 10, 11  performances at 1:30 and 3:30 on Saturdays and Sundays.
November 9 a special Friday night performance  at 7:30pm
All tickets are $10.00
To order tickets online click here.
CAST
Michael Ricciardi  Prince Edward
Will Flamm  Tom Canty
Jeff Taylor  John/King
Jacqueline Schreiber  Mary/Queen
Lynette Sheard  Elizabeth/Kate
Anique Evans  Jane/Nan
Rory Hoban  Miles/Edgar
Maya Joyce  Reggie/Madge
Jerry Ryan  Guard
Arthur Harold  Bart/Doctor
Rob Pape  Father Andrew/Hugo/Hertford