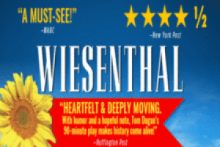 Wiesenthal is the award winning off Broadway play written by Tom Dugan. It is the riveting story of an ordinary man that did extraordinary things. Simon Wiesenthal was known to the world as the "Jewish James Bond" dedicating his life to bringing Nazi war criminals to justice. He succeeded in aiding in the capture of 1100 including a fifteen year hunt for Adolph Eichmann.
Christopher Gibbs plays Wiesenthal in this intimate, emotional recounting of his career. Wiesenthal, directed and designed by Mark Liebert, will be at Studio Playhouse in Upper Montclair, NJ on dates TBA Seating will be general admission, get your tickets at https://www.brownpapertickets.com/event/4544850
See a write up on The Times of Israel.