Wiesenthal
Written By: Tom Dugan
Directed BY: Mark Liebert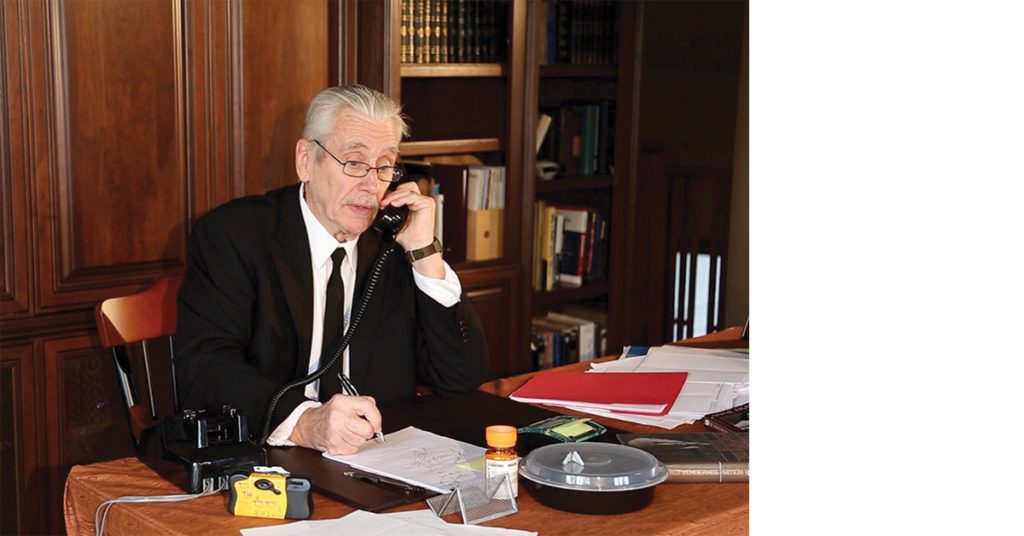 Cast
Christopher C. Gibbs as Simon Wiesenthal
Simon Wiesenthal was known to the world as the "Jewish James Bond" dedicating his life to bringing Nazi war criminals to justice. He succeeded in aiding in the capture of 1100 including a fifteen year hunt for Adolph Eichmann.
Wiesenthal is presented by special arrangement with Daryl Roth Theatrical Licensing
The play is performed in one act with no intermission. See the playbill
At its conclusion and following a five minute break there will be a talk back with Christopher C Gibbs and Mark Liebert.
September 24 and 25, 2021 @ 8:00 pm – 10:00 pm
In the ever changing face of the COVID pandemic, Studio Players has made the following changes to meet or exceed CDC Guidelines as well as local, state, and federal laws.
POLICIES
Attendees of Shows, Staff, Performers, Volunteers
All Patrons of Studio Players, staff, performers, volunteers must be fully vaccinated with an FDA or WHO authorized COVID vaccine, no exceptions. WE WILL NO LONGER BE ADMITTING ANYONE WHO IS NOT FULLY VACCINATED (2 doses minimum)

This means:

2 weeks after second dose in a 2-dose series, such as the Pfizer or Moderna vaccines
2 weeks after a single-dose vaccine (J&J).

All Patrons of Studio Players, staff, performers, volunteers must show proof of vaccination to enter. Accepted methods include:

Original CDC Vaccination Card and photo ID.
Photo of CDC Vaccination Card and photo ID.
Docket App (New Jersey Residents only): Docket is a free app from the NJ Department of Health that makes it easier for you and your family to securely access your COVID-19 vaccination record. The Docket App is available on Apple's App Store and Google Play. https://covid19.nj.gov/pages/vaxrecords
Excelsior Pass  (New York residents only)is a free app from the NYS Dept of Health that makes it easy for you to access your vaccination record. It is available on Apple's App Store and Google Play. https://covid19vaccine.health.ny.gov/excelsior-pass

All patrons during events and actors, staff, volunteers during rehearsals are required to wear masks that cover both their nose and mouth while inside Studio Players. Acceptable masks via:

Not Acceptable Masks are as follows:

Neck gaiters or bandanas
Masks with an exhalation valve or vent
Plastic face shield alone
Precautions Studio Players Is Taking
Tickets are touchless. They are purchased ahead of time online or may be purchased at the door.
Seating unlike our previous policy is general seating so audience members may space themselves out as needed.
We are limiting our ticket availably to 70% of our capacity to allow for spacing.
We will not be selling refreshments.
Hand sanitizer, wipes, and masks are available to all at no charge.
We have upgraded our filtration system.
We ask that patrons do not linger in the lobby before the show, during intermission unless online for bathroom, after the show. Immediately exit the building after the show. Performers can meet you outside.
Our performers while on stage will not be masked. They are over 10 feet away at minimum from audience members while they are on the stage.
Liability and Personal Responsibility
By choosing to attend any Studio Players event, you are assuming all risks related to being exposed to COVID-19 and Studio Players will not be held responsible.
Monitor your health. If you don't feel well, please stay at home.
If you have exhibited symptoms of COVID-19 in the past 10 days, have tested positive for COVID-19 within the past 10 days, or have been in contact with someone with COVID-19 in the past 10 days, please stay home.
While attending any Studio Players event, please follow the directions of our staff and volunteers. For the safety of all of our patrons, we reserve the right to ask you to leave the premises if you are unable or unwilling to follow these guidelines in their entirety. Thank you for your full support!