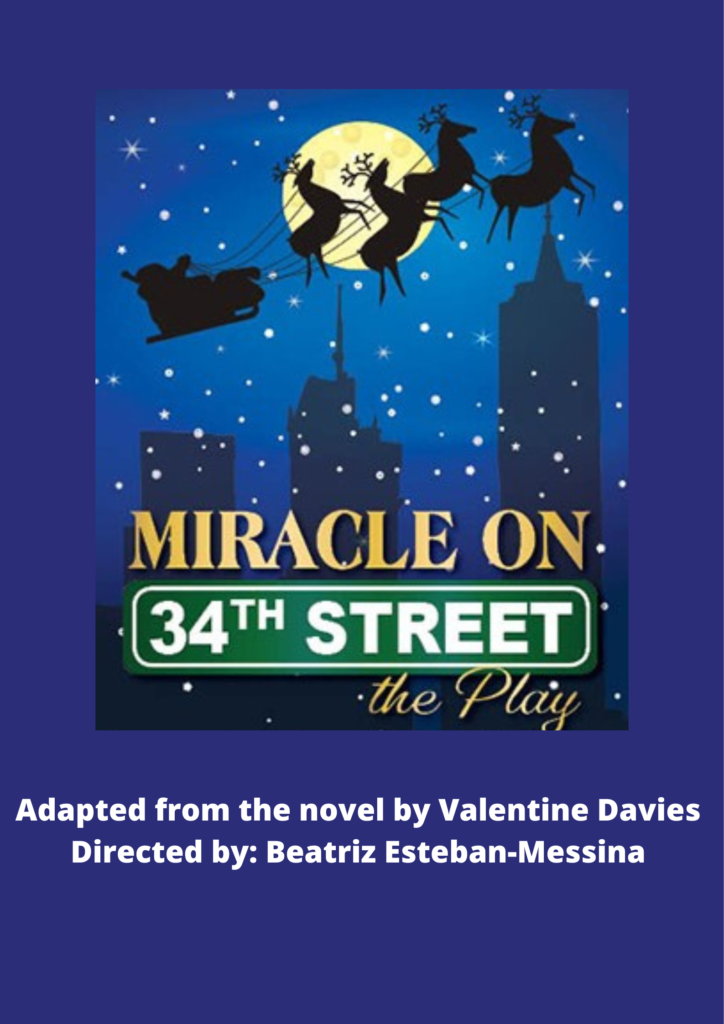 Miracle on 34th Street
Adapted by Mountain Community Theater from the novel by Valentine Davies. Based upon the Twentieth Century Fox motion picture Miracle on 34th Street.
Directed by: Beatriz Esteban-Messina
Kris Kringle, living in a retirement home, gets a job working as Santa for Macy's. Kris unleashes waves of good will with Macy's customers and the commercial world of New York City by referring parents to other stores to find exactly the toy their child has asked for. Seen as deluded and dangerous, Kris is in danger of being shipped off to Bellevue. The stakes couldn't be higher: Kris' freedom and one little girl's belief in Santa.
Dates
Friday Options: Dec 9 and 16 at 7:30 pm
Saturday Options: Dec 10 and 17 at 3:00 pm and 7:30 pm
Sunday Options: Dec 11 and 18 at 3:00 pm
Buy your tickets online! Please note our COVID policy
Cast
Kris Kringle: Allen Roberts
Doris: Janna Epstein
Fred: Arthur Carlson
Susan: Kara Misener and Samantha Mcginn
Ms.Shellhammer: Katherine Reardon
Dr. Pierce : Alexis Saarela
Sawyer: John Fraissinet
Macy: Julio Irizarry
Bloomingdale: Tara Spinelli
Elves: Aidan Carlson and Donna Bialkin
Drunk Santa: Jack Pignatello
Bag Lady: Donna Fraissinet
Rich Lady: Anne Hennessy
Sharon:Kara Misener and Samantha Mcginn
Johnny: Kevin Dougherty
Dutch Girl: Beatrix Hart
Sharon's Mom: Rachel Rubin Ladutke
Johnny's Dad: Felipe Rodriguez
Dutch Girl's Adopted Mom: Terry Fierro
Judge: Patrick Little
Finley: Felipe Rodriguez
Halloran: Francesca Stokes
Mara: Cindy Ryan
James Mara: Kevin Dougherty
News Announcer: Jack Pignatello
Duncan Zookeeper: Zuiara Sinclair
Al At Post Office: Hijilos Exume
Lou At Post Office:Ed Bialkin
Pedestrian: Rachel Rubin Ladutke
Pedestrian: Anne Hennessy
Pedestrian: Terry Fierro