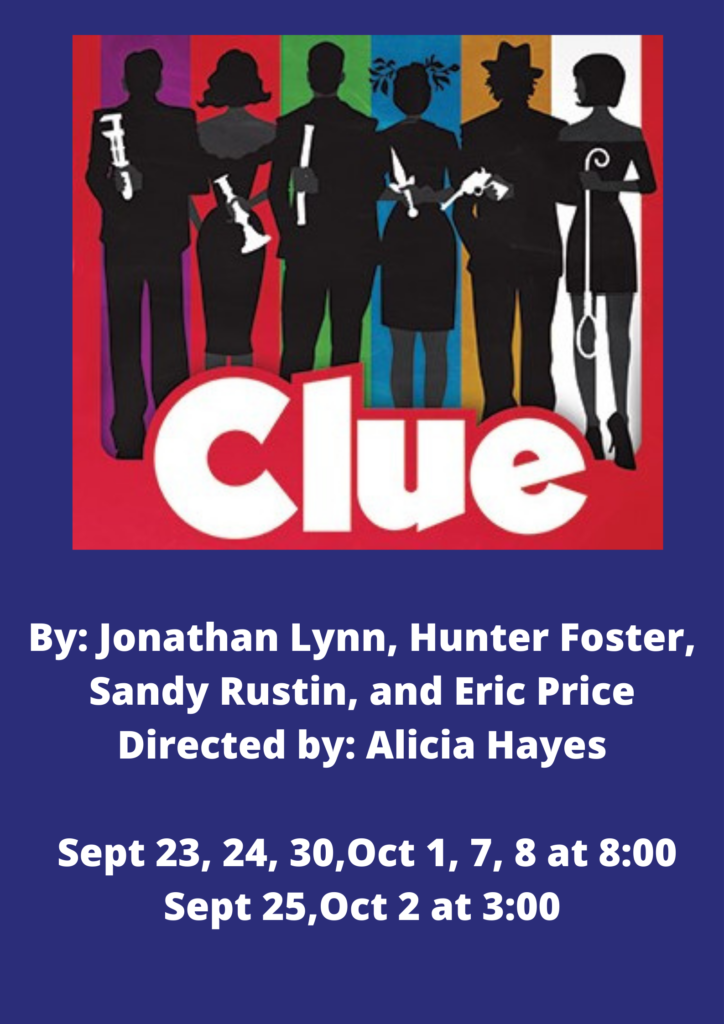 Cast
Jessi Baden Campbell as Cook & Singing Telegram
Anthony DiAmbrosio Chief of Police & Male Victims, Mr Body.
Brian Lynch as Professor Plum
Emily Miller as Yvette
Allegra Mroz as Ms. Scarlet
Leni Rose as Mrs. Peacock
Leslie Silverman as Mrs. White
Daniel Waldron as Wadsworth
Kirk White as Colonel Mustard
AJ Wolf as Mr. Green
Evan Dassler-Pardalos as The Arresting Officer
Clue
By Jonathan Lynn, Hunter Foster, Sandy Rustin, Eric Price
Directed by: Alicia Hayes
Dates
Out of concern for the health of our cast and patrons, Studio Players sadly announces the cancellation of this weekend's performances of CLUE (Fri 9/30, Sat 10/1 and Sun 10/2).
We are pleased however to be able to add 2 additional performances to our remaining run. The following is our remaining schedule:
Thursday October 6 at 8PM
Friday October 7 at 8 PM
Saturday October 8 MATINEE at 2PM
Saturday October 8 at 8PM
All patrons holding tickets for any of the cancelled performances will be contacted by phone by our box office staff and offered one of the following options:
*An exchange for another performance of CLUE
*An exchange to any future performance in our season (you don't need to specify which show at this time)
* If necessary a refund.
Based on the iconic 1985 Paramount movie which was inspired by the classic Hasbro board game, Clue is a hilarious farce-meets-murder mystery. The tale begins at a remote mansion, where six mysterious guests assemble for an unusual dinner party where murder and blackmail are on the menu. Clue is the comedy whodunit that will leave both cult-fans and newcomers in stitches as they try to figure it all out.
Tickets