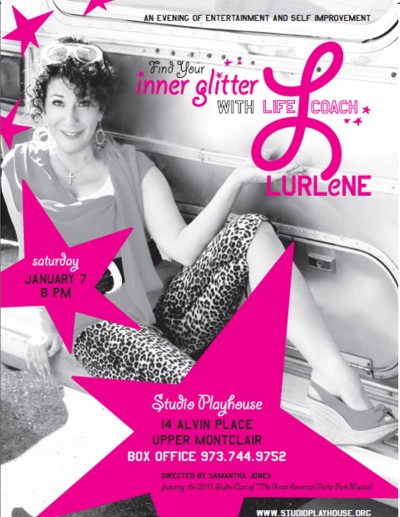 FIND YOUR INNER GLITTER WITH LIFE COACH LURLENE
An Evening of Entertainment and Self-Improvement
Directed by Samantha Jones
BENEFIT PERFORMANCE* –ONE NIGHT ONLY!
Saturday, January 7, 2012, 8PM
All tickets for this benefit performance are $20 with proceeds going to support Studio Players!
Join Life Coach Lurlene, (Laura Berman Fortgang) aspiring "Life Coach to the Stars" in an evening of YOUR personal transformation. With her high-impact comedic approach to turning your life right-side-up, Lurlene leaves no stone unturned with her ridiculously inspiring hands-on approach. Learn, grow, laugh and be changed for the better!
Opening Act: The cast of Studio's Jan.2011 production of "The Great American Trailer Park Musical".
*All proceeds from tickets sales and Lurlene's not-so-silent auction benefit The Studio Playhouse's roof-replacement fund.