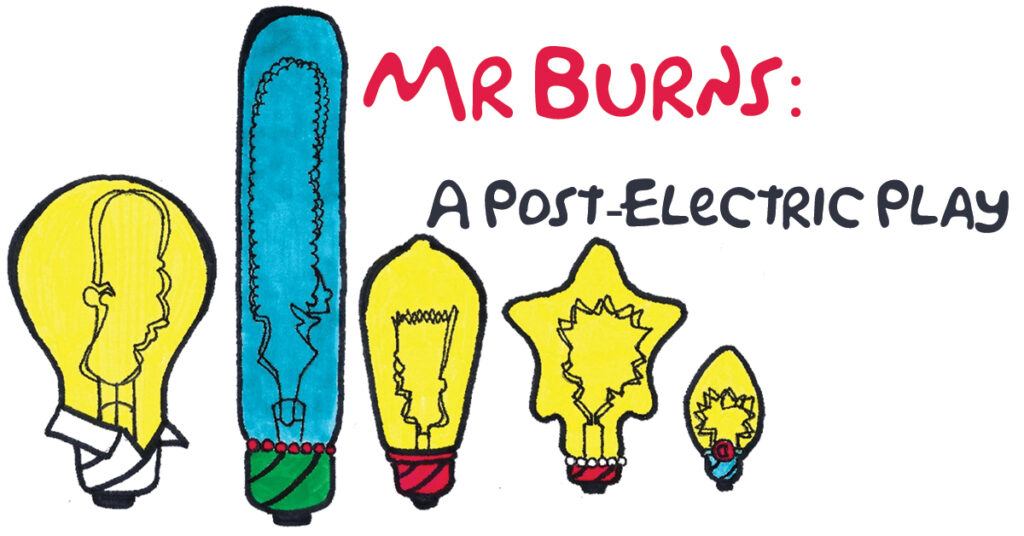 Mr. Burns: A Post-Electric Play
By Anne Washburn
Directed By: Michael Smith-Gallo
After the collapse of civilization, a group of survivors share a campfire and begin to piece together the plot of "The Simpsons" episode "Cape Feare" entirely from memory. 7 years later, this and other snippets of pop culture (sitcom plots, commercials, jingles, and pop songs) have become the live entertainment of a post-apocalyptic society, sincerely trying to hold onto its past. 75 years later, these are the myths and legends from which new forms of performance are created.
Dates
Auditions dates and times February 6 and 7 at 7:00 pm.
Performance Dates: May 6, 7, 13, 14, 20, 21 at 8:00 pm and May 8 and 15 at 3:00 pm
Audition Information
As stated on our home page, Studio Players stands committed to casting people of color and people of all faiths, genders, sexual orientations, ages, and abilities in any role that will showcase their talent, and to inviting all people in our diverse communities to join us onstage (or behind the scenes). Mr. Burns is meant to be an early exemplar of that. In the narrative, the characters are thrown together irrespective of life circumstances. There are no expectations on race, religion, or orientation. There are scant suggestions of age, and though pronouns are suggested below, even gender is malleable. We truly hope this show is the best of all of us!
As the world of Mr. Burns unfolds, we start on a group of 5 characters, but 2 new characters are introduced as time unfolds, and then all these characters rehearse a performance of a play, enacting various roles from The Simpsons (Season 5, Episode 2: "Cape Feare"), mentioned below.
If you are auditioning for one of the 7 acting roles, please read through the character descriptions below, and prepare one or more sides to read in auditions.
Sides are currently not available. Please check back at a later date.
These will be available as soon as possible.
By Act III, it is 2098, and the full cast is in an actual theatrical, musical, performance of a "bizarro" version of The Simpsons, and they are only defined (in the play and below) by their Simpsons roles. (For the record, sometimes, the bizarro nature of the show means they don't have the exact correct Simpsons name; explained below.)
All performers sing in Act III. The music is simple and straightforward. You do not need to be a "singer" to participate. Being generally musical, familiar with sheet music, or simply able to hold your own in the car or shower is likely welcomed—but a willingness to sing on stage, in itself, is a requirement.
If you do not wish to be considered for the 7 "acting" characters, but only wish to be considered for a musical role, please pick one side regardless, so we can see your charisma on stage.
Regardless or whether you wish to act in Act I-II or simply want to sing and dance in Act III, all auditioners will be asked to perform a brief song of your choosing (~32 bars or ~45-90 seconds). Anything from "My Country 'tis of Thee" to "Defying Gravity" to Beyoncé's "Love on Top" is welcomed. Auditions will be a capella—we don't care if your pitch strays; we just want to hear you sing!
Players in Act I and II
Matt: A natural ringleader. Loves The Simpsons. Striking up a relationship with Jenny. Plays Homer in Act II and Scratchy in Act III.
Jenny: A bit of a "cool girl." Fan of The Simpsons. Starting to date Matt. Friend to Maria. Is the Stage Manager in Act II and also plays Marge in Acts II and III.
Maria: A bit of "weird chick." Doesn't really know The Simpsons. Smart but anxious. Not very worldly. Cares about Colleen's welfare. Plays Lisa and an FBI agent in Act II and Itchy in Act III.
Sam: Ex-military. The "dad" or lieutenant of the group. Not so charismatic, but smart, reasonable, and cunning. Values protocol, but maybe a bit of a pedant. From a small town, with few personal connections. Plays Bart in Act II and Mr. Burns in Act III.
Colleen: Separatist, damaged, frightened; has a missing daughter (aged 12). Is the Director and plays an FBI agent in Act II and plays Lisa in Act III.
Gibson: [Arrives later in Act I—not part of the group] Has never seen The Simpsons, but instead loves Gilbert & Sullivan. Presents with a bit of false bravery to make up for that. Still he is genuinely resourceful—he has hiked solo about 250 miles by the time he arrives. Plays Side Show Bob in Act II and Homer in Act III.
Quincy: [Arrives in Act II] A diva (somewhere between Jessica Rabbit and Retta.) She is not getting the attention she wants at first, but is developing a plan. Has started dating Matt. When she arrives, she plays "a "Businesswoman", but this actor plays Bart in Act III.
Players in Act III
Featured Soloist
Edna Krabapell: a sort of priestess, or maybe a dictator. In the Style of Lady Gaga, Beyonce, or Eminem. A Strong Singer. Has a larger singing role apart from the established characters below.
Featured Players
The Featured Players all have discrete solo moments in character.
Groundskeeper Willy
Ned Flanders
Nelson Muntz
Troy McClure
Apu Nahasapeemapetilon: It is not lost on the director, Studio Players, and presumably the playwright that the character of Apu is problematic in many contexts. As Act III is set in 2098, this character has morphed quite a bit. He does not have an accent. The known tropes of the character are largely dispensed with. Presumably, he still does run a convenience store, as he says, "There will be no charge for that." But, that is all that remains of the vestiges of the 20th- and early 21st-century incarnations of the character familiar today.
Ensemble
The Ensemble portray distinct characters and round out the cast (and potentially, if you want to, play instruments—don't worry: nothing too hard. We'll teach you.)
Chief Piggum [sic]: a bizzaro version of Chief Wiggum
Principal Skinner
Mayor Quincy
More Slyslak
Thelma [sic] & Patty Bouvier: another bizzaro name change, and a "dual" role